Inferno Snow Racing Clutches
Inferno Snowmobile racing clutches are thermo-dynamically designed to last longer than conventional racing clutches. They can be adjusted without removing chain. Quick change springs allow less time making adjustments and more time on the snow. Inferno clutches are track tested and proven winners.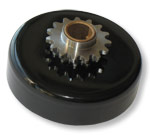 They are available in two models, The Flurry and The Blizzard. The Inferno Flurry is an economical clutch with hardened parts for durability. The Inferno Blizzard implements shoes with removable weights to fine tune performance. Different weight and spring combinations offer infinite tuning possibilities.
Clutch Comparison
Features
Inferno Blizzard
Inferno Flurry
Extreme Duty
Patented Clutch Design
Heat Dissipating Design
Integral Key
Sintered Metal Clutch Shoes
Oil Impregnated Bushing
Interchangeable Sprockets
Quick Change Springs
Designed for Racing
Stamped Racing Drum
Machined Steel Sprockets
Heat Treated Hub
Track Tunable Shoe Weights
Variable Shoe Configuration

---